Hello Fit Crew!
Danke!  Grazie! Merci! And Thank-You! 
For what?  For sticking with it.  Whatever it is you are doing to make it through the last 8 months, keep doing it!  Bravo!
As always, if you want off this distro, please let me know (I get it, truly!)  Grab a joe or flip thru what floats your boat and have a read (LOADS OF GIFTS FOR YOU BELOW) ….
Truth be told, I too have been wrestling with the challenges faced with COVID – do I even keep teaching yoga and fitness?  (I  know, right?)  What do I teach?  How can I swing it?  Do I start charging? Am I worth it?  How do I do this? How did that 15 extra pounds happen?
Like you, I am missing the laughter, sweating, working out together, the eye-to-eye motivation…..  I miss teaching Spinning..… A LOT… I am grateful for our time in the summer with Yoga in the Park and now in my studio. Gyms of all shapes and sizes are struggling – we know this – and are doing the best they can to keep open. Why?
We are all keenly aware of the positive impact exercise has on the physical, psychological, and social health of people.  
Good health is THE ULTIMATE immune system builder.
Help us help you.
Keep and strengthen your connection with the people who keep you moving.  I want to give a shout out to my fellow instructors and fit fam (no specific order here…) who I have inspired me and countless others during this mess of a year – who have shown up  ….  Michelle Kerr, Theresa Carriere, Mo Hagan, Barb King, Dawn Bowman, Sadie Nardini, Karen Richards, Nathalie Lacombe, Helen Vandenberg, Buddy Macuha, Lawrence Biscontini, Darin Dieterich, Julia Shantz and all the GM's at GoodLife and the YMCA, Nigel Wragg, Sarah Oliver,  Monika Bock, Alex Rea, Heather Wenman, Joan Mortimer, Janice Hutton, Maureen Rae, Rodney Lee, Colleen Saidman-Lee, all those instructors literally breathless teaching with masks, Dr. Joe D … and so many others who are giving all they can – often freely … they give tirelessly to their dedication to the industry – to us. Be sure to let your fitness fam – your fitness buddies –  know what they mean to you!  Connection is NOT quarantined!
It's going to be a WEIRD holiday season, for sure.  Here's some thoughts that are on my mental side table to reach for when I need that kick, for you to consider…  (read at your leisure!)
Walk it out!
When a wave of "WTF" hits me, I slap on the headphones and walk.  Just walk. Listen to your favourite tunes (Spotify playlists for you), a favourite podcast – (one of my all time faves- Tim Storrey's The Heart and Soul of a Comeback) or make a call again… to someone you haven't checked in with for a while. It counts!
Wanna walk and talk? I'm in for a virtual walk with YOU – wanna walk? Wanna? (like a puppy jumping up and down!)  Let's book it! 
Some of my other go to's favourite things:
I LOVE access to top notch instructors and meditation with Giai.com.  This has been a lifeline to keeping mind in peace and not off the deep-end.  Here's some of my favourite meditations – available to you for 24 hours after you click:
Demystifying Meditation  by Dr. Joe D  – a 20 minute docu on why it works!
AM Meditation with Rodney Yee – short mindful movement start this session
Healthy Relationships by Colleen Saidman Yee – you'll be surprised at the ingredient
Watering Flowers and Meditation on Mindful Living by Bernie Clark – both guide you to that 'ha!"
Find Spaces Between Thoughts by Christopher Hareesh Wallis – quite the thought to think!
Meditation for Reducing Fear and Anger by Ashley Turner – especially on those hard days
Feel Good Giving: Shop Local, Shop Socially. The statistics are staggering for small businesses and marginalized communities that are hit with closures and lay-offs.  And at the same time, the possibilities of shopping locally and responsibly are endless.  Consider this when purchasing for the holidays or whenever!  Here's a few lists you can consider:
Plan something to look forward to!
While our cities might be on lockdowns, this WILL NOT be a forever thing. PLAN something – a run, a charity virtual event, a dinner, a summer bbq – NOW! Why not? Make a list! Next thing you know, it will catch up with you and all the people and things you want to get back to will be a crazy dash.  Get ahead of it.
Build your immune system! 
And finally, and most importantly MOVE. There's no single pill or supplement you can take to boost your immune system. Instead, adopting healthy living habits can help improve your immunity for a lifetime.  It's "move time" NOW. You know full well how you feel after walking, biking, lifting…. So DO NOT WAIT for it – build you habits now and keep them during these cold months coming: Build your own internal vaccine to disease.  Check this article out to learn more.
Here's a 2021 plan for you to consider:
Fitness For All – A click away for you to join!
On-line is not going away – it will be an "add on" for some and for some part of their daily routine. I'm thrilled to be with Michelle Kerr, Theresa Carriere and Sarah Langford on our streaming platform.  We remain low-cost to keep this accessible but trust me, this is high value!  We've added more classes and a special 6 week "Meno-UN-pause" $99 program with Theresa And if you sign up before Dec 25, you get 30 days free.
Our gift to you to try this on! (Hint: It fits all!)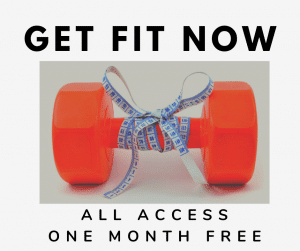 Use promo code "GETFITNOW" for 30 days free
Here's the line up on classes:
Special New Year Class
Join us for the New Year's version of our Fitness Medley on Saturday, Jan 2 at 10AM!  Free, with Mo, Theresa, Michelle and me for 1 hour of a medley of MO moves, muscle, cardio and yoga stretch wrap up. (this is included in your 30 day free trial).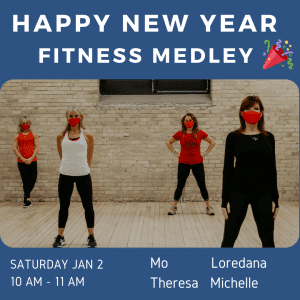 In-Person Yoga at my studio
Lockdown pending, I will have a few spots open in January – please reply to this email if you are interested in joining live, in a safe, full COVID protocol studio. (Masks to mats required and I wear a mask throughout)
Mondays and Wednesdays 5:30PM
Thursdays at 7:30AM and 12:00Pm
Retreat with Me! 
I know many of you have been waiting, so here's the line up.  Talk about something to look forward to!  I've worked with these amazing resorts to create a truly unforgettable experience. Registration is now open for Killarney (2 dates!) at the Killarney Mountain Lodge  Register Now HERE.
I'm taking names currently for those interested in the beautiful Ucluelet, British Columbia at the Black Rock Resort  and back again to Sardinia, Italy at the Hotel L'Ollastu.  Just reply to this email if you are interested!  Check out the "Retreat" Section on my website for more details and photo galleries.  Careful consideration to COVID cancellations (full refunds if required to close in Killarney and BC) and protocols are in place.
These retreats are limited and fill up fast!

And… that's a wrap!  (I know it was a long one!)
Have a safe and happy holiday to all of you. I wish you all the love, happiness and joy today and always.
Much Love all!
Loredana
P.S. Here's a couple of "feel good" ads for you to tune into: