Why do so many of you keep joining these retreats again and again?
Joining a retreat with me means you join a safe haven where people from all walks of life can rejuvenate spirits, bond over shared experiences, and find joy in the small moments. I am redefining the typical yoga retreat by offering soul-nourishing excursions, gourmet delights, and authentic human connections sprinkled with mindful yoga and meditation.
Inspired by Blue Zones, where we focus on the characteristics of longevity, each location is carefully chosen with care that asks you to simply show up – every detail is considered for you!
So… On that note – Welcome to the community, connection and holistic health.
Retreats with Loredana
Spots are limited in each and flights are not included, but transportation once you arrive is taken care of. Don't wait to book as flights generally go up in price closer to the dates.
The NEW 2024 Line Up:

Yoga (and so much more) Retreat at Synergy Retreats in Uvita, Costa Rica: Uvita's finest Luxury Yoga and Wellness Retreat Center. Cradled in high-vibrational energy, surrounded by magical mountainous rainforest, at this Wellness Retreat anything is possible.
At the stunning Boutique Retreat Paraiso: A luxurious country house set in spectacular gardens in Lagos, Portugal. Yoga, stunning views, and even better company.
COMING SOON…


Why go on a retreat you ask?
Here's a short list and if you wonder how to choose YOUR best retreat, check out my blog on the matter!
Connect with nature
Disconnect from technology
Amp up your current yoga
Spend some quality time with quality people (nice people!)
Find healing.
Embrace fear.
Eat well. Very well.
Really relax.
Read what people are saying…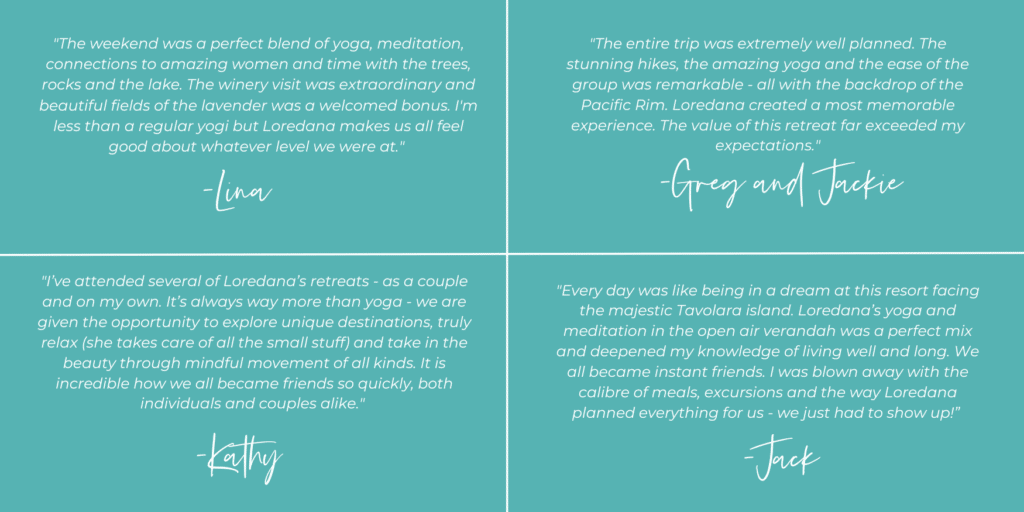 Memories to last a lifetime. Check out some highlights from past retreats: